Natu Mistry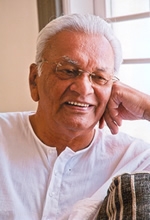 Born in Hallisa, Gujarat in 1933. He did his Diploma in Fine Art from Sir J. J. School of Art, Mumbai, Art Masters Examination from C.N. Fine Art College, Ahmedabad. He was worked as a cartoonist in leading Gujarati Newspaper for the "Gujarat Samachar" from 1962 to 1985. He was also worked as an Interior Decorator. In 1995 after becoming a full time artist, he exhibits his artworks in major cities of India. His remarkable exhibitions 'Panoramic Streetscapes' at Jehangir Art Gallery and 'Bombay Scapes' at Jamaat Art Gallery, Mumbai had received highly appreciative response from artists, art critics, art lovers and art collectors. He also exhibits his figurative works in Oils, Acrylics and Watercolours on Canvas, Paper and Wood panels. He has also successfully tried his hand at a series of figurative works in now rarely practiced wash technique, creating dreamy and dusky compositions of Krishna and Radha. Natubhai seems to have a perennial fascination for Streetscapes, which have now naturally become his forte. He has written 26 books on Art and Drawing as a Pioneer Writer of Books on Art in Gujarat. He is known for his paintings on the themes of heritage monuments.
Awards:
2010: Gujarat Govt. ARTIST 'GAURAV PURASKAR'
2004: Kalidas Awards, Madhya Pradesh
2004: Gujarat Lalit Kala
2003: AIRACS Awards for Drawing, Golden Jubilee Exhibition with Gujarat Lalit Kala Akadami
1999: Received AIFACS Award, (Veteran Artist)
1999: South Central Zone Culture Centre, Nagpur
1976: Gujarat Govt. for 'Kalavaibhav'
He lives and works in Ahmedabad.