Piraji Sagar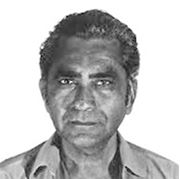 Piraji Sagara was born on 2 February 1931 in Ahmedabad. He matriculated in 1950. He had natural talent for art so he joined drawing cource and later served as a drawing teacher. He completed Masters in Drawing in 1957 and in Arts in 1960 from Sir J. J. School of Art, Bombay. His brother Ishwar Sagara was also an artist who learned from him without art education.

He taught at art at the School (now Faculty) of Architecture, CEPT University, Ahmedabad from 1963 to his retirement. He continued to work there until his death.

He died on 23 January 2014 in Ahmedabad.